Cheap Gap Cover for Medical Schemes and Which to choose
June 23, 2018
More and more South Africans are beginning to realise the importance of Gap Cover. Here is a quick look at the top South African Gap Cover providers you also have to consider to join that offer cheap gap cover for medical schemes.
What is Gap Cover? – Cheap gap cover for medical schemes
Gap Cover exists to meet the difference between the prices charged by healthcare practitioners while also covering the predetermined limits of your existing medical scheme.
This kind of short-term insurance is ideal for:
Unexpected hospital costs.
Will help you cover for fees for specialist and also medical providers.
Also, covers medical scans.
Counselling
Hospital consumables, also including medication.
They also cover longer-than-expected hospital stays.
Gap Cover w
ill give you peace of mind and will be able to pay for any medical expenses that you haven't taken into account.  Let us take a look at the Top 5 South African Gap Cover Providers.
Zestlife
Zestlife offers excellent gap cover for medical aid members.
They provide gap cover for in-hospital procedures
Gap Cover for specialist medical practitioner fees
Hospital treatment co-payments
A one-time payment in case of cancer
There are two Zestlife packages. Here are the premiums: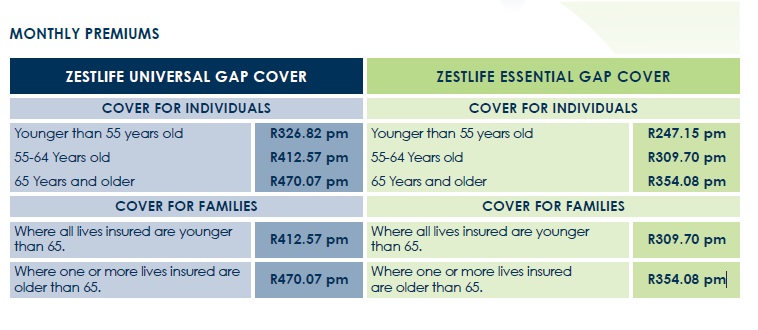 Stratum
With packages ranging from R99 and R168 each month, all Stratum Gap Cover plans offer:
Gap Cover to meet the difference between specialists' and doctors' rates and approved medical aid payments
Cover for co-payments
Stratum's more advanced packages also offer:
CT and also MRI scan cover.
A wide range of options for in-hospital treatments and procedures
Turnberry
Offering up to 500% of in-hospital cover while also being at a low price. Turnberry packages range from R79 – R124 monthly.
The standard Turnberry Elect-A-Care covers various deductibles, including:
Dentistry
Scopes and scans
In-hospital payments
Optionally, Turnberry Elect-A-Care-Plus offers assistance with a variety of deductibles, including certain benefits relating to out-of-hospital expenses, in addition to in-hospital cover for co-payments
Essential
The Essential range of gap cover is another of South Africa's leading providers, and has two alternative options:
Essential Elite membership, at only R140 monthly, offers:
500% gap cover, limited to R250 000 annually
Excludes co-payment and sub-limit options
Essential Prestige, from only R160 monthly, offers unlimited gap cover annually for the principal member and family
Ambledown
Another superior South African provider, Ambledown offers up to R2 000 000 per family annually, including gap cover for:
Also includes all in-hospital treatments.
Outpatient chemotherapy and radiotherapy and cancer treatment.
Out-patient kidney dialysis.
Also providing up to 500% cover of medical scheme rates.
Other Outstanding Gap Cover Options – Cheap gap cover for medical schemes
Complimed
With package options ranging from between R61 and R121 per month, Complimed is a basic Gap Cover option that makes an excellent addition to your existing medical aid scheme. An extremely affordable plan, Complimed offers extended options to any existing medical aid members.
Xelus
The Xelus Fusion cover has been specially created to serve the needs of employers and also employees. A specific group cover plan, Fusion can offer cover for all kinds of payment gaps, irrespective of the specific medical aid.
Sirago
Starting at only R115 monthly for the principal member and up to 4 family members, Sirago is an affordable and dependable Gap Cover policy option. Sirago imposes no maximum age for entry and offers unlimited annual cover. In addition to standard medical providers' fees, Sirago also covers in-hospital optometry and dental cover.
Jenius
Another of South Africa's top 10 providers of Gap Cover, the Jenius scheme offers a straightforward option to pay for whatever differences arise between medical aid tariffs and actual charges incurred during your hospital stay.
Talksure
An established provider of Gap Cover, Talksure provides an accessible means of meeting unexpected medical costs.
Remember to fill in and then submit the form on this page to get your one free gap cover quote.
All info was correct at time of publishing