Find a Brokerage Firm that Offers Medical Gap Cover
December 19, 2021
The obvious first move when signing up for gap cover is to find the leading brokerage in South Africa that offers the best shortfall insurance. This is it!
We have reached an agreement with Zestlife – and specialist short-term insurer – to act as an intermediary, directing you to their terrific call centre for a dedicated quotation.
Why Zestlife is the leading gap cover brokerage
Zestlife, a registered FSP or financial service provider, has been in operation for a long time, and offers highly professional service and products.
The firm supplies individuals and families with excellent, needs-based health insurance products such as gap cover.
The mission of the brokerage is to protect South African families from the financial chaos that can ensure following injury, illness and disability. Their flagship product, in our view, is gap cover, which protects medical aid members against the high costs of co-payments, which are increasingly becoming commonplace in SA.
Zestlife has an impressive list of strategic partners. Their policies are reinsured by Gen Re and Swiss Re,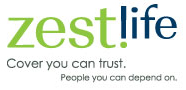 two of the largest insurance companies on earth. That fact alone should give you peace of mind, knowing that if you submit a valid claim, Zestlife will be able to meet obligations laid out in your policy and pay in full.
Zestlife is also a member of the Direct Marketing Association of South Africa.
Things to know about gap cover
You can only get gap cover if you are a current member of a South African-registered medical scheme
The product takes care of co-payments that may emerge as a result of specialist care, medical procedures in hospital, and so on. Without gap cover, you must pay co-payments out of your own pocket.
Everyone on your medical aid benefits from your gap cover policy e.g. spouse, children
The product is extremely popular because it is effective and affordable. You can expect to pay the equivalent of about 10% of your medical aid premium monthly. So if you pay R5000 per month for medical aid, you will probably pay around R500 per month for gap cover.
Get a quote and sign up now. Complete and submit the form on this page so we can contact you with a personal quote and assist you in signing up for a policy.
All info was correct at time of publishing