Gap Cover in South Africa If You Belong to a Medical Scheme
July 1, 2018
Why is there gap cover in South Africa for medical aid members?
Your medical aid might not cover all hospitalization expenses
What doctors charge and what the medical aids pays can be very different
Medical care here is expensive
Your alternative is to go to a state hospital
Gap cover is there when you need it the most
How many stories have you heard around the braai about medical expenses and when the medical aid refused to pay?
It's a fact of life here – the medical aid rates that the medical schemes pay out according to, seldom cover your doctor's charges.
Instead of having sleepless nights worrying about how you are going to pay thousands of Rand worth hospital bills or
having to fork out for extras such as scans, you can protect yourself against this happening to you.
Gap cover in South Africa for medical aid members offers a solution. It will come into effect after your medical scheme has paid their portion and give you peace of mind.
In this article, we look at the South African companies that offer the best in gap cover.
Companies that Offer Good Gap Cover in South Africa for Medical Aid Members
The monthly premiums at Zestlife are as follows: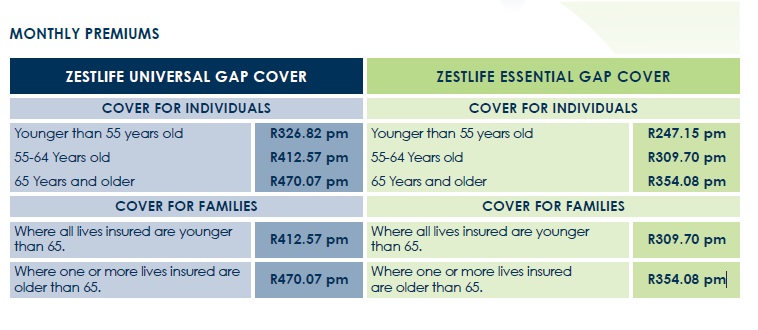 The cover is for hospital procedures and:
Fees for doctors not covered 100% by your medical scheme
Copayments
A cancer diagnosis lump sum payment
A payout if you die in an accident
Cancer and dentistry benefits can be added
The monthly premiums at Stratum are in the area of R99 to R168.
Unlimited cover
Stratum will pay any shortfall when it comes to specialist's and doctor's rate
Co-payments are settled on your behalf
In the more comprehensive plans, your CT and MRI scans are paid for.
The monthly premiums at Turnberry are in the area of R79 to R124.
Gap cover extends to a maximum of 500%
Elect-a-Care is a standard plan that includes cover for scans, scopes, dentistry, procedures in the hospital and certain scans conducted outside of a hospital.
Elect-a-Care- Plus provides all the benefits listed above and also covers co-payments when in hospital. Benefits extend to certain procedures out of hospitals and deductibles.
The monthly premiums at Essential Gap Cover are in the area of R140 to R160.
Elite membership is the basic option with a limit of R250 000 a year. Coverage is up to 500% of medical standard rates.
Prestige membership is comprehensive with unlimited gap cover. Coverage is up to 600%. Unlike the Elite plan, this plan helps with co-payments and will also kick in if you have exceeded the sub-limits of your medical scheme.
The monthly premiums at Ambledown start at around R200, depending on which option you select.
Cover is for in-hospital treatments and some out of hospital treatments
Cover extends to 500% of the medical scheme rate
The annual limit for each family covered is R2 million
Smaller Companies Worth Checking Out
The monthly premiums at Complimed are around R61 to R121.
Basic gap cover for in-hospital procedures.
The Fusion package offered by Xelus is for companies wanting to provide extra peace of mind for their employees.
Xelus pays a range of shortfalls, irrespective of the medical scheme you use.
The monthly premiums at Sirago begin at around R115. (This includes up to five members of your immediate family.)
Jenius offers gap cover that is straightforward and affordable.
This South African company has found the right balance of value for money and affordability.
And that's a wrap. We have gone through the companies that offer the best bang for your buck when it comes to gap cover in South Africa for medical aid members. Get your free quote today!
Next step: Fill in the form on this page, then submit it to get a quick gap cover quote
All info was correct at time of publishing