One Gap Cover Policy per Family from Zestlife
June 25, 2018
Medical specialist rates are commonly much higher than Medical Aid rates. This also results in an amount (often large) left for the medical aid member to fund out of their own pockets. Fortunately one gap cover policy per family from Zestlife covers the self-payment gap.
Medical aid members often do not understand that the Medical Aids may say they cover 100% of the costs involved but that, in fact, refers to, the 100% of the Medical Scheme Tariff (MST) rates which are much lower than doctors and specialist charges. Zestlife with their experience in the Medical Industry also has become experts in creating "Gap" insurance policies. So read more to find out more about Zestlife's one gap cover policy per family.
Growth in Gap funds required – One Gap Cover Policy per Family
Statistics show that there is also an alarming growing gap, year on year, between what the medical aid pays and what the doctors/specialists charge.
2006 – Average gap payment was approx R 100 per consultation.
2016 – Average gap payment is approx +R400.00 per consultation.
2020- Expected to rise to +700 per consultation.
We cover all medical schemes at Zestlife – One Gap Cover Policy per Family
Zestlife have created two gap cover plans: the Universal Plan and the Essential Plan. Here are the current prices: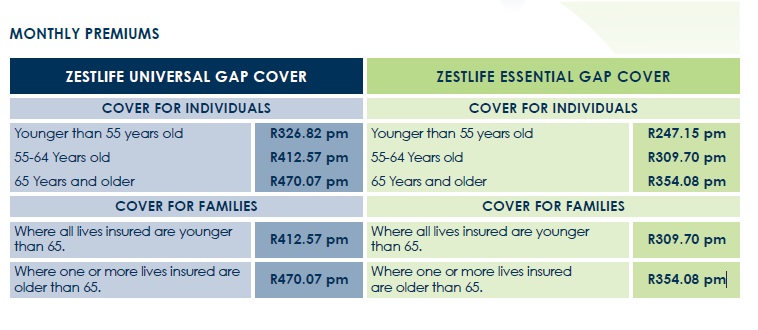 More options – One Gap Cover Policy per Family
There are also options available covering extended Cancer and Dentistry gap cover. Contact Zestlife for further details. There are also some general exclusions to persons i.e. suicide/speed racing/nuclear explosions etc. Please contact Zestlife for an up to date list. ZESTLIFE contact: 021 180 4220.
Fill in and submit the form on this page to get your one free gap cover quote
All info was correct at time of publishing