Universal Medical Gap Cover from Zestlife
July 1, 2018
What is Universal Medical Gap Cover at Zestlife?
This is Zestlife's premier gap cover product.
It covers you for up to 500% of the medical scheme tariff amount.
Your medical aid pays out according to its predetermined medical scheme tariffs.
Doctors and specialists often charge a lot more than these rates.
The gap cover is mostly for in-hospital expenses but some out-patient expenses are also covered.
When you join a medical aid, you might think that your medical aid will pay out 100% of your costs for your hospital stay. You could find yourself in for a nasty surprise, though. Medical aids have their own predetermined rates that they pay for procedures.
Doctors, surgeons and specialists are not under any obligation to charge these same rates, however. And, in many cases, their charges far exceed these rates.
Let's take a simple example, let's say you needed to go in for an appendectomy. It's a simple surgery and should be routine. Now, let's say that the bill for the surgeon and the anaesthetist together come to R21 000.
Not a problem, right? After all, your medical aid has you covered. Wrong, because, according to the standard medical tariffs as laid out by your medical aid, they are only liable for R10 000 of the total bill. That means that the remaining R11 000 is for your account. Your portion is actually higher than the medical aids.
And, yes, it is perfectly legal.
What Can You Do?
You can always hope that you never need to go into hospital. Let's be realistic here, though, you have very little control over that, don't you?
What you can do instead is to protect yourself by taking out gap cover. With Zestlife, you have two options when it comes to gap cover – Essential and Universal.
Common Elements of Universal and Essential Gap Cover
Available to anyone who is a member of a registered medical aid.
Cover applies to main member and any family members listed as dependents on the main member's medical aid.
Single members who join when under the age of 55 will qualify for a monthly premium discount.
Should the main member or any dependents being covered be over the age of 65, the monthly premium will increase.
There is no maximum age for entry.
Essential Gap Cover
This is the basic, affordable cover and covers the most common medical expense shortfalls. You are covered for in-hospital procedures and selected out-patient procedures. The coverage amount is up to three times the medical standard tariff.
You are covered for co-payments charged by medical schemes for hospital admissions, scans and certain surgical procedures. If the co-payment is as a result of using a non-network service provider, you are covered up to R8 600 limited to one claim per policy per year.
Universal Gap Cover
This is the premier offering and covers you comprehensively in addition to coverage for a range of different risks. You are covered for up to five times the medical standard rate.
In addition to the benefits mentioned above, you also receive full coverage for co-payments whether in or out of network.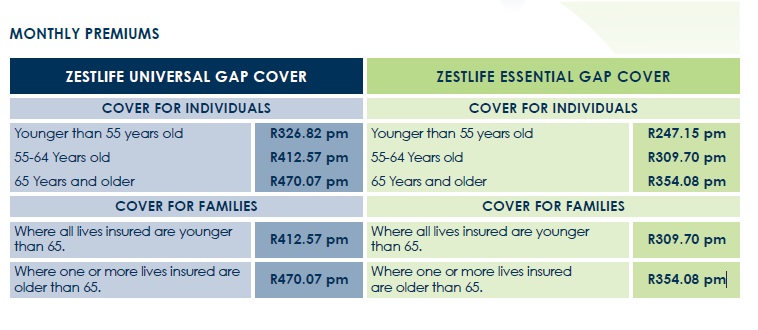 You will also receive enhanced cancer coverage.
Next step: complete and submit the form on this page to sign up for a Zestlife gap cover plan
All info was correct at time of publishing